What is College Credit Plus?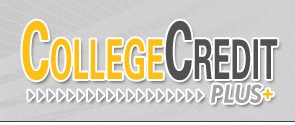 Ohio's College Credit Plus can help you earn college and high school credits at the same time by taking college courses from community college or universities. The purpose of this program is to promote rigorous academic pursuits and to provide a wide variety of options to college-ready students.
Benefits of EGCC's College Credit Plus Program
There isn't any cost to the student or families for courses and instructional materials

 All students are assigned a College Credit Plus Advisor who has the responsibility to ensure that the student has someone with whom they can meet and confer to receive guidance regarding scheduling, advising, Eastern Gateway's policies or any other questions that may occur.

All College Credit Plus students are considered EGCC students and have access to many benefits and student support services.

Credits earned can transfer. We also offer several General Education Courses that meet the Ohio Transfer Module (OTM) that guarantees transferability to Ohio colleges and universities.
Technical Help
Students experiencing issues with their EGCC student accounts may contact the IT Department by phone or email:
Phone: 1-877-654-8638
Email: TShelp@egcc.edu